A Guide For Various Sizes of Mattresses In Ireland
Families comprise of various sizes and so does the mattress on which we spend a great deal of time. According to studies, on an average we spend 8-12 hours on bed – sleeping, watching TV, reading and occasionally stress-eating. So buying the right mattress plays an important role in this scenario. But before buying mattress in Ireland, it is important that you know how much sleeping space you need and how many types of mattresses are available according to size. It is recommended that you buy the one, keeping you needs in mind.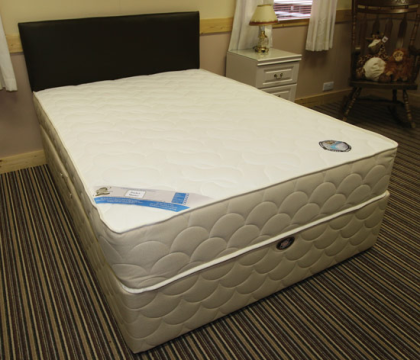 So, how many mattress size exists that you know of, twin, double, king sized, super king, but how much do they differ and which one is for you? Here is a guide for you to see and choose for yourself
1. Single or cot (75X190 cm)/ (30 X 75 In)
It the smallest size mattress possible and is most suitable for one child, unless the child need considerably large sleeping space. It can easily fit in your child's room leaving plenty of space for other stuffs such as study table, wardrobe, toys and also provides playing space.
2. Twin (90X190 cm)/ (35X75 in)
This one is 5 inches lwider than single one and is perfect for your child to sleep on, especially if he/she has a furry friend as a sleeping partner. It may also be considered for youself if you live in a studio apartment. Its compact size ensures enough clearance for keeping other stuffs.
3. Small double/ (120X190 cm)/ (47X75 in)
It is 12 inches wider than the previous one and is ideal bed for your guest rooms and for freshly graduates who are new in the world of self-dependence and loves to spend a great deal of time on bed while studying, sleeping, eating, taking naps and watching TV.
4. Double/Full (135X190 cm)/ (53X75 in)
Double or full mattress is 6 inches wider than the small double and thus, provides 'just sufficient' space for a couple. It is a smart choice for you and your partner, if you guys loves to sleep close together. However, it does not provides enough room for your child or pet.
5. King sized (150X200cm) /(59X79 in)
As the name 'king' suggest, this mattress outnumber the last one both in terms of length and width. It is ideal for couples with child, who prefer to keep them on bed instead of cot or cradle. This is a ideal choice for you, if are considerablt taller and own a spacious master bedroom.
6. Super King (180X200 cm)/ (71X79 in)
It is the largest sized mattress that you can get in Ireland and is 12 inches wider than the previous one. This mattress provides ample amount of space for the your child and yourselves without compromising your sleeping space. Due to its large size, your loving pets can also find a warm corner besides you during winter.
So, before buying mattresses in Ireland, consider your option and calculate your space and make the right choice for you and your family.